ABUNDANCE AFFIRMATIONS
Prosperity cannot be created by talking or thinking about your lack of money. Focusing and dwelling on lack only create more lack. Like attracts like… Poverty thinking just brings more poverty. Gratitude and prosperous thinking bring Abundance.
If you would only change your consciousness, your thinking, to allow the abundance of the Universe to flow through your experience, you could have all the things you truly desire.
Affirming, declaring, deserving, and allowing are the steps to demonstrating true wealth.
38 Abundance Affirmations for Financial Prosperity
MONEY AFFIRMATIONS ARE POSITIVE PRESENT TENSE STATEMENTS ABOUT MONEY, ABUNDANCE, AND PROSPERITY THAT YOU REPEAT, WRITE, SPEAK, FEEL UNTIL THEY BECOME YOU NEW SPOKEN THOUGHTS"
MONEY AFFIRMATIONS ARE ONE OF THE SINGLE MOST POWERFUL TOOLS YOU CAN USE TO END YOUR FINANCIAL STRUGGLES AND STEP INTO YOUR ABUNDANCE.
What can money affirmations do for you? Here are the top tips:
EXCITEMENT ABOUT NEW OPPORTUNITIES TO MAKE MONEY EVERY DAY.
ABILITY TO EASILY LOVE MONEY, ATTRACT MONEY AND HAVE MONEY.
HEALTHY POSITIVE ATTITUDE TOWARDS PROSPERITY AND WEALTH.
PEACE WITH YOUR INTENTIONS TO MAKE A LOT OF CASH.
POSITIVE ENERGY THAT CAN ATTRACT SUCCESS AND WEALTH TO YOU.
MANIFESTATION OF INCREASING FINANCE, INCOME, AND SAVINGS.
CONFIDENCE IN YOURSELF TO MANAGE THIS WEALTH.
HELP MORE PEOPLE WITH YOUR ABUNDANCE.
AFFIRMATIONS…READ THEM, SPEAK THEM, WRITE THEM, LISTEN TO THEM AND LET THEM BECOME A PART OF YOU!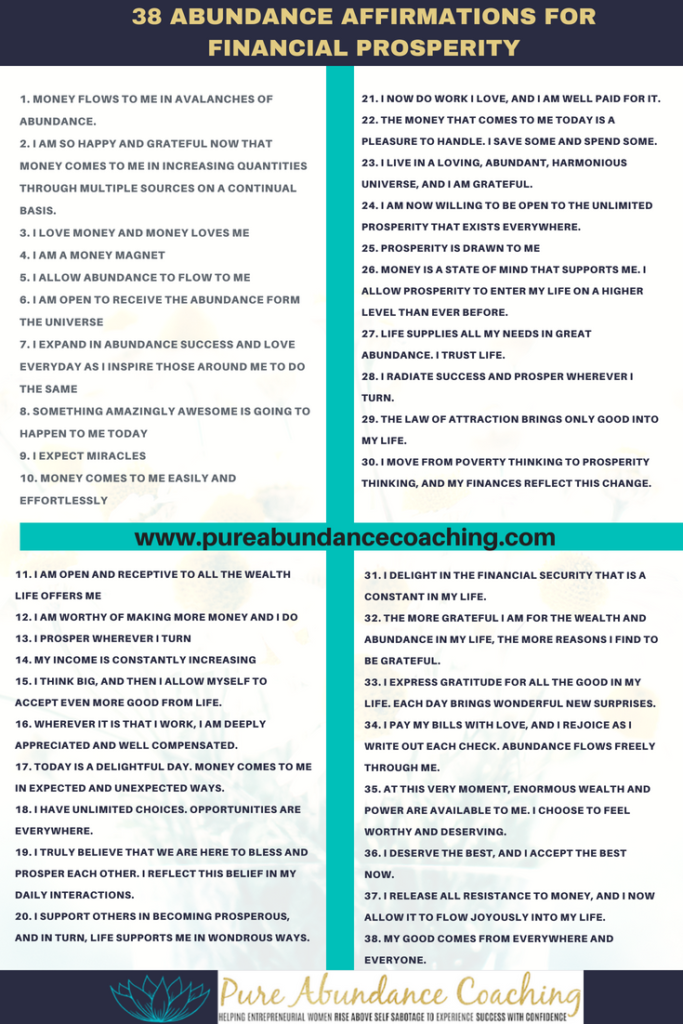 Did you get any value from this post? If so, please comment below and share it on Facebook and any other Social Media websites!
Cheers to your HUGE success!!!
xoxo Bec
Email: hello@pureabundancecoaching.com
Got Questions? – Reach Out to Me on Facebook
---
***Do you have anything that is holding you back from becoming the person you want to become or from having the success you wish to have? Why don't you book a with me? Click the image below to select the best time we can chat!
---
Join my Facebook Law of Attraction and Manifesting Tribe